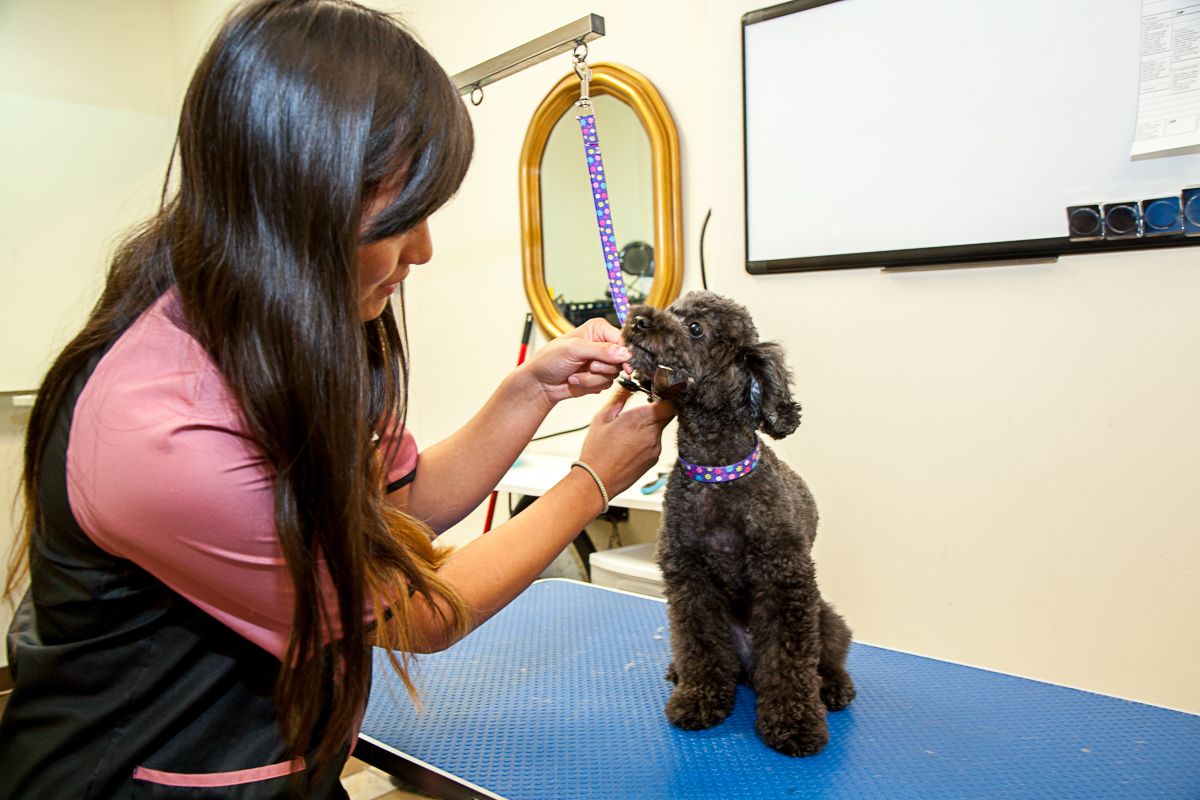 For your convenience, we are located next door to North Oakville Animal Hospital. Our services range from individual treatments to exceptional spaw packages. We provide expert grooming and aesthetics in our relaxing and intimate environment. We practice gentle grooming, with positive handling and caring treatment of your dog.

You will meet our professional groomer at the time of your appointment so that you can discuss your needs, ensuring we provide you with the groom you're looking for and the most positive experience for your four-legged family member. Your dog is scheduled for a specific groom time, so they need only stay with us for the duration of their spaw services.

For everyone's safety, all dogs being groomed must have proof of current Rabies vaccination provided.

As we book up quickly, please provide 24 hours' notice if you are unable to keep your appointment so we can offer your spot to another client.
Our grooming service packages include:
Bath and Brush
Our Spaw B&B includes a bath with all natural shampoo, blow dry, brush out, nails trim and ear cleaning.
Priced from $45-$100+*

Bath, Brush, and Tidy
Our premium BB&T experience includes a bath with all natural shampoo, blow dry, brush out, nail trim and ear cleaning. It also includes a sanitary area and feet trim, pad cleaning and a light trim around the eyes.
Priced from $50-$110+*

Complete Groom
Our Full Spaw Package includes a bath with all-natural shampoo, blow dry, brush out, nail trim, ear cleaning, sanitary area trim, pad cleaning and feet trim, as well as a breed-specific or owner-specific cut.
Priced from $65-$140+*

Additional Treatments: Additional treatments may be added to your full groom, including nail grinding, anal gland expression, teeth brushing, pad moisture and balm protector.

Individual Services: Our individual services include, nail trims, nail grinding, pad trimming, Pawdicures, eye and face tidy.

*Fees may vary based on factors such as breed/size, desired cut, coat condition and pet behavior. Additional charges apply for excessive de-matting and undercoat removal, as well as anal gland expression and teeth brushing. Specialty Treatments like Medicated Baths, De-shed Treatments, and De-Skunk Treatments are also available (not available for freshly skunked pets).

*PLEASE NOTE: Appointments must be scheduled for all services.

*Proof of CURRENT RABIES vaccination is required for all services performed at The Ark, including nail trims.

**Please note we do not groom cats at this time.**